Victor(y) Care enables individuals experiencing health problems to
track and communicate their health status through a mobile app
Using an iPad screen, wellbeing status, medicines, activities are easily recorded on a time basis of 15, 30 or 60 minutes. A daily view of this information is provided for each category inside the Daily Wheel and is orchestrated so that daily recordings can be viewed over any period of time.
Trends in health and wellness categories, including statistical views, are automatically created and available for view by the user, and their support team. Better understand your health progress and make sure your treatment plan stays current based on your compiled health data.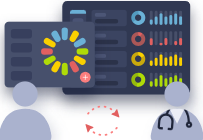 Use Daily Wheel as a communication tool between you and your healthcare provider or physician. All your stored records will set both you and your physician up to better understand your health. Daily Wheel can act as a baseline for assessing your wellbeing and help you both to discuss how to proceed with your treatment plan.
You can record and share personal and medical information online with family, caretakers,
and service providers.
Victor(Y) Care is designed for use by everyday people who want the capability to expertly
manage their health information.
PATIENTS
FAMILY

FRIENDS
SERVICE PROVIDERS
CAREGIVERS
Individuals can track and communicate their personal information
for all types of well being, sickness, and health conditions.
Victor(y) Care is very easy to use. It is a complete app to record all types of well-being, activities and medicines. I can recommend it 100%!

With this unique tool, we can quickly understand the health status of children with complex disorders.

Victor(y) Care can be adapted to the users' individual needs. This app is easy to learn how to use!

Doctors, nurses, and caregivers can easily monitor how their patients are progressing and responding to their treatments.
Communicating Your Health
and Well Being